Interview With Tapestry's Dante Ragazzo, Senior Director of Digital Workplace
Tapestry owns Coach, Kate Spade, and Stuart Weitzman
📢 Last chance…Today is the deadline to enter Ragan's Employee Communications Awards.
Welcome to the third installment of my interview series with internal comms professionals.
---
Dante Ragazzo is the Senior Director of Digital Workplace at Tapestry, a position he has held for two years. Previously Dante managed Tapestry's enterprise portal and before that, he was in internal comms at EY.
Tapestry is the house for modern luxury lifestyle brands Coach, Kate Spade, and Stuart Weitzman. Publicly traded (TPR) and based in New York City, Tapestry has five corporate offices around the world, two major distribution centers in the U.S., and one manufacturing facility in Spain. The retail sector has been hit hard by the Covid-19 pandemic, but Tapestry's ~20,000 employees are resilient: the company has safely re-opened all of its ~1,700 stores globally.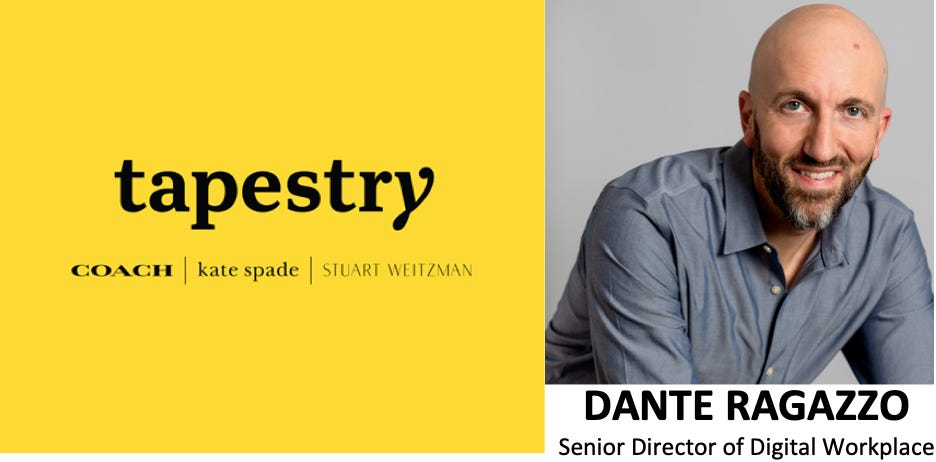 An exhausting summer is behind us and an uncertain holiday season lies ahead. Sometimes it's nice to escape the headlines and speak with peers about the nuts and bolts of your work. It's under this guise I approached our video conversation in early October, where Dante joined me from his home office in Pennsylvania.
In this interview, Dante:
describes the vision for the digital employee experience at Tapestry
tells us about the technology his firm uses to engage employees ⭐
explains how his team connects employees across three brands
reveals which Tapestry brand best reflects his personality
⭐ Indicates content available exclusively to paid subscribers
Describe the internal comms team at Tapestry.
We're called Global Communications. We removed "internal" from our name because we also have team members who manage PR and tapestry.com. We like to call our team "small and mighty"—we're only about 12 people.
Over the past few years, we've transitioned from a brand-centered support model to one that is function-oriented. For example, one person is focused on executive communications across all three brands, rather than exec comms for just one of the brands. Another person is in charge of events across all three brands, and so on.
My team is a team of two. We manage the overall intranet experience and strategy and lead decentralized content management. Now we're working on integrating other communication and collaboration tools into a cohesive digital workplace.
What exactly do you do?
I am focused on our digital workplace vision, so I do a lot of "cat corralling." With the best of intentions, we get a lot of pushes for new communication and collaboration platforms. Part of my job is to step in and educate colleagues about the current capabilities of our existing intranet (we call it "the Loop"), so that I keep us on track toward the vision.
What is the vision?
To have a coherent, simple ecosystem that helps employees find what they need and get their job done with as little interference as possible. I would love employees to say, "Wow, this is actually helping me be more effective."
We are shifting from an information and communication tool to a collaboration and work tool. Bit by bit, employees should be able to get more of their job done in the space we're creating.
⭐ Which collaboration software do you use?
Upgrade your subscription to read the answer and see a screenshot of Tapestry's intranet homepage.
⭐ Which other platforms are you integrating with the Loop?
Upgrade your subscription to read the answer and a screenshot of Kate Spade's intranet homepage.
⭐ Is there an employee app? How is it used?
Describe the employee audiences.
Our employees fall into three categories: Corporate, Retail, and Distribution Centers. Most of our manufacturers are vendors, so our team doesn't generally communicate with them.
Eighty-to-ninety percent of our messaging is for Corporate and Distribution, which is about 3,000 employees. With our Retail audience, our team is not as active, but we work with the Store Operations teams, who communicate with the Stores on a daily basis. The number of Retail employees fluctuates depending on the season, but generally our entire population is about 20,000 employees.
How do you connect employees across three major brands?
Our strategy is to focus on Tapestry as the common ground that unites us all. We started as Coach, then we acquired Stuart Weitzman, and then Kate Spade. We are in the process of evolving into a cohesive culture, but that takes time. In the last few months—that is, since the Covid-19 crisis—we've been able to really home in on the Tapestry Purpose and messaging.
The pandemic hit and we, unfortunately, had to reduce our number of employees. Perspectives changed and there was less resistance to adopting the Tapestry brand and message. Other priorities and responsibilities took shape that helped facilitate our evolution from some legacy brand-centric communications.
At the corporate level, we communicate across all our brands, but there are teams that manage comms to brand-specific stores. So the store-level comms are allowed to do what they need to do to manage the retail. We all meet once a month to stay connected and we use the Loop to share content, messages, and events across the brands.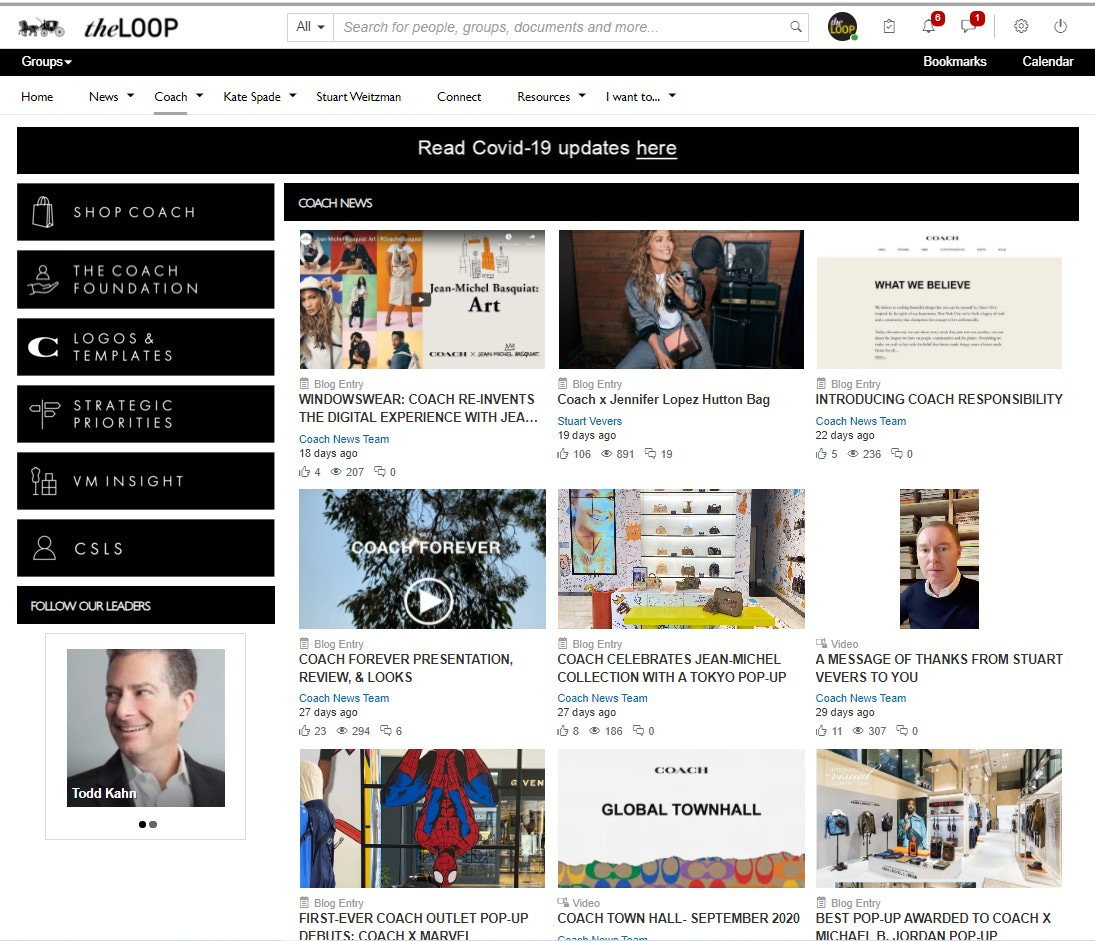 Screenshot of a brand-specific (Coach) homepage on the Loop
What is the most popular type of content?
The most popular content is the Pets of Tapestry Group! Employees go there every day, and it gets the most comments and participation.
From a business perspective, Tapestry News gets the most attention. We publish two-to-three articles per week, definitely never more than five. A lot of the content is about store openings, company partnerships, and messages from the CEO, as well as news about our company, like when we're voted a best place to work. Occasionally we'll publish something from a third-party source; for example, a feature article about Tapestry in Women's Wear Daily.
What kind of multimedia is most effective in communicating with employees?
We're doing more video now. We use it for formal conversations with senior leaders, like a Q&A. We publish the video to the Loop and then push it out in the weekly newsletter.
We'll also post a quick message from someone, like a message from our CEO. These are unscripted, low production quick hits with minimal edits and a fade in and out.
We try to keep them to two-minutes or less, but sometimes we lose that battle. For some very important videos, we'll also add closed captioning and provide translations where appropriate.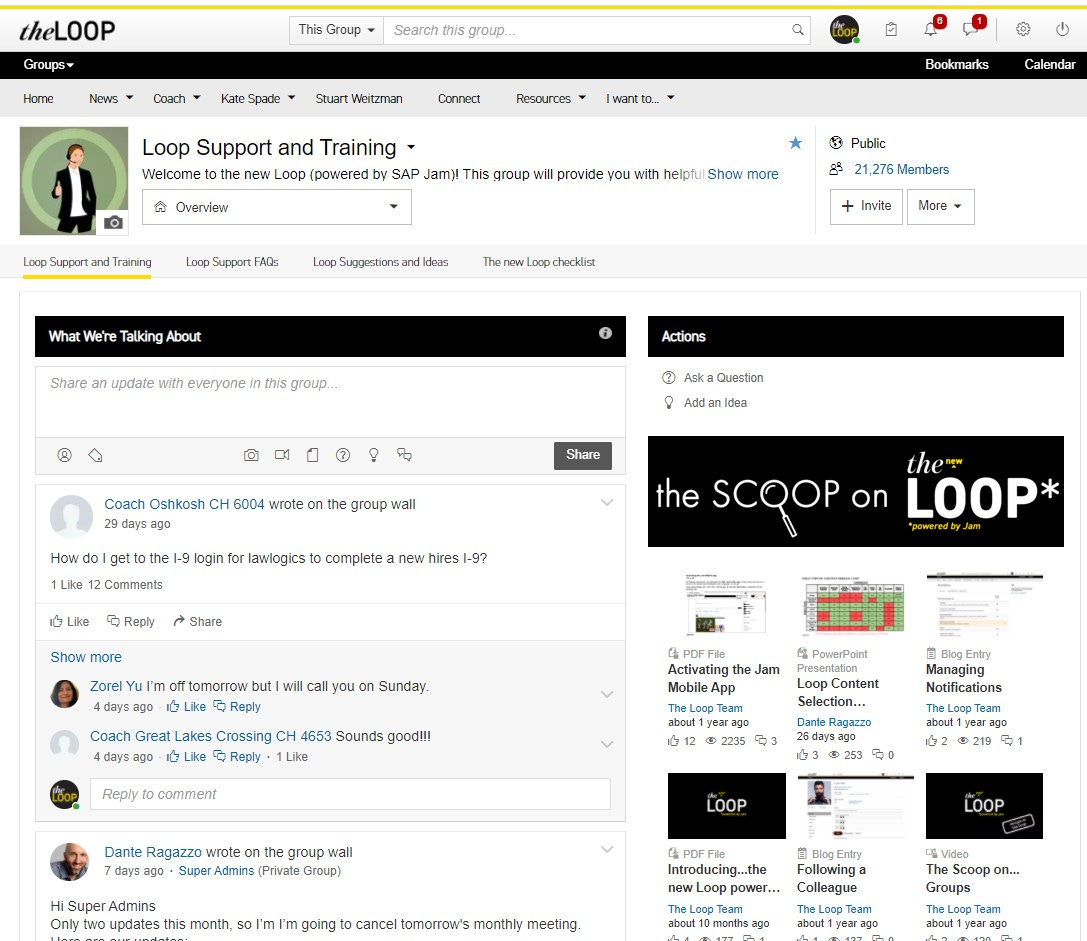 Screenshot of the Loop's support page. "Scoop on the Loop" is on the right.
We also create videos that teach people how to use the collaboration and work tools on the Loop. We initially did a series called "Scoop on the Loop," for example, to walk through new functions, like how to follow someone or how to set up the mobile app. For this, we do a Camtasia-style capture.
⚡
LIGHTNING ROUND
⚡
Are you wearing any Tapestry brands right now?
A Coach hat. I also have tons of bags and more than a few belts.
Which Tapestry brand best reflects your personality?
For me, it's Coach. There's masculinity to the brand. I love the way I can hear leather moving against itself. It reminds me of horseback riding and how you can hear the saddle creaking.
What's your favorite room in the house?
My new office. I just redid it. It's my own respite and escape from my family. (My wife and I have three children: two girls and a boy.)
Which trait do you most admire in others?
Compassion and transparency. I appreciate transparency because I want to know what's really going on. I also appreciate compassion because sometimes the truth can hurt a little bit.
What do your parents think you do for a living?
[laughter] My father probably thinks I manage the company website. He doesn't understand the difference between coach.com and the internal site. My mother says, "He's the one who makes sure everyone knows what's happening."
---
Paid subscribers to Mister Editorial get access to exclusive content, such as the answers to questions about Tapestry's digital collaboration tools and a six-part series on how to set up an internal comms editorial strategy.